In September 2018, Hurricane Florence hit eastern North Carolina. Flooding, power outages and days of rain caused billions of dollars in damage. As many communities struggled to hold on, hospitals across the central and eastern regions of the state had their own mission — meeting whatever health challenges the storm brought their way.
"We don't just work in these communities, we live here, too," says David Sumner, a vice president for Southeastern Health who helps to lead the hospital's emergency preparedness and response. "Our patients are our neighbors. And we want to be there for them."
Hospitals were preparing long before Florence made landfall on September 14. Staff at Southeastern Health's Southeastern Regional Medical Center in Lumberton had stockpiled provisions knowing they'd be there for at least three days. (As it turned out, they were there for six.)
Even as far inland as Wake County, hospitals were coordinating extra staff to deal with a possible surge in patients, arranging for staff to sleep on site in case the storm made roads impassable.
"We don't let our guard down with any massive storm," Dr. Barb Bisset told reporters two days before Florence made landfall in Wrightsville Beach. And Bisset would know. As executive director of the Emergency Services Institute, Bisset coordinates WakeMed's emergency and disaster planning efforts with every other hospital system in North Carolina.
Think Long Term
Because hospitals play an essential role in helping communities cope with disasters, many of them work closely with local, regional and state emergency management officials.
"During Hurricane Florence and Hurricane Matthew, a member of our leadership team was literally in the Robeson County Office of Emergency Management around the clock to ensure our communications with these vital services were tightly coordinated," Sumner says. "We have ties with our communities in so many ways, and having those relationships really pays off during a disaster."
But while many healthcare providers in eastern North Carolina were buckling down, staff in the Duke University Health System were packing up.
One Step Beyond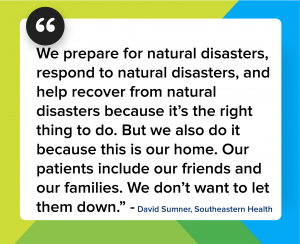 "In the beginning, we were focusing on 'what do we need to do in order to secure our patients'?" says Jason Zivica, Director of Emergency Preparedness & Business Continuity for Duke University Health System. But before long, that evolved.
"The state had requested that we set up a state medical support shelter," explains James David Marsee II, Healthcare Preparedness Coordinator with Duke University Health System. "We reached out to see what we could do to start gathering folks."
Specifically, Duke Health was asked to deploy a State Medical Assistance Team (SMAT), which would work with government support staff and other institutions to help people who evacuated their homes and had special medical needs.
From Durham, the Duke Health team traveled more than 70 miles southeast — toward the storm. Their destination was Cherry Hospital, a vacated facility in Goldsboro. The building was going to be their "shelter." But for all intents and purposes, it needed to be a hospital. And to understand the scope of the challenge here, think about what it means to turn an empty building into a medical center.
In addition to bringing in doctors, nurses, pharmacists and other healthcare workers, the SMAT also had to bring in food, medicine, bedding, fuel for generators, and every other thing they might need in order to care for patients. One of the first jobs facing SMAT workers when they arrived at Cherry Hospital was simply cleaning the building.
"We wanted to be able to provide the same level of care to patients at the emergency shelter that they would expect to receive at a Duke hospital," says Miranda Mathis-Harris, Nurse Manager of Operations at Duke University Hospital and part of the SMAT group during Hurricane Florence.
And they pulled it off.
The SMAT staff even coordinated helicopter evacuations with the U.S. Coast Guard, in which Duke Health staff volunteered to fly out in the middle of the hurricane to make sure critical patients could reach hospitals further inland that had additional resources.
"To be a part of a team that was really committed to taking care of our patients, that just makes you feel good," says April Cooper, a Clinical Pharmacy Specialist at Duke Regional Hospital who served on the SMAT.
Recovery
Hospitals know that the end of the storm is when a lot of the hard work really begins. That includes cleaning up and digging out, as well as planning for the next emergency.
But the recovery effort isn't limited to the work being done by construction crews. Sometimes a storm can have ripple effects that last for months, or longer.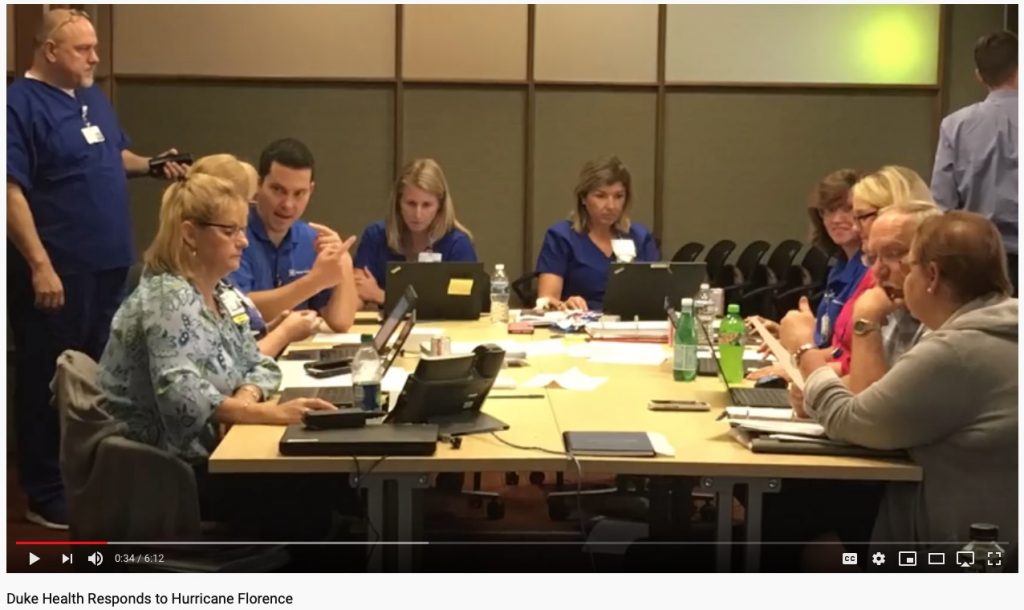 "Disasters like Hurricane Florence can take away peace of mind and the emotional stability that comes from our normal daily routine," says Dan Drake, president of Vidant Medical Group ambulatory services for Vidant Health. "That sort of stress can contribute to depression and anxiety. That's why we set up special clinics to provide counseling appointments to anyone in the Duplin County area who was experiencing symptoms such as depression, grief, or anxiety. Our focus is on the health and well-being of our patients — and that includes their mental health and well-being."
"We prepare for natural disasters, respond to natural disasters, and help recover from natural disasters because it's the right thing to do," says David Sumner. "But we also do it because this is our home. Our patients include our friends and our families. We don't want to let them down."