Senate Bill 630, signed into law by Governor Roy Cooper on June 22, 2018, is a consensus-driven update to the state's 20-year old Involuntary Commitment Law that will help North Carolinians in behavioral health crisis get the right care at the right time in the right place. NCHA has created a webpage designed to help members understand the changes to the Involuntary Commitment processes. Read or download our one-pager on the bill. See the complete bill text here.
Over the past decade, the number of patients seeking behavioral health care in North Carolina's emergency departments, and the length of time they wait for treatment, has increased four-fold. Roughly half of NC hospital emergency department beds are consistently filled with patients with behavioral health needs, many of whom are involuntarily committed to treatment. Many NC hospitals, and especially the small and rural facilities, struggle with inadequate staffing and physical space to support individuals experiencing a behavioral health crisis. Extended emergency department boarding carries serious consequences for both the individual and the state's safety net resources, as mental health conditions are likely to deteriorate rapidly in non-therapeutic settings.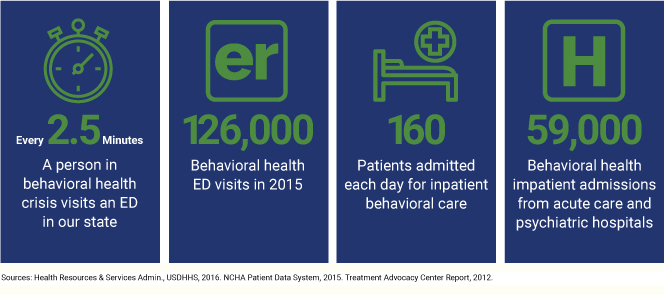 Despite the odds, NC hospitals are developing innovative and promising solutions, including creatively repurposing the role of the sitter to initiate therapy in the emergency department, constructing divided child and adult waiting areas using age- and disability-appropriate supportive equipment, and applying the patient-centered behavioral health urgent care model in the ED.
Ultimately, reforms are intended to drive behavioral health in North Carolina toward a truly comprehensive system, where care is timely and appropriate, delivered by skilled practitioners, coordinated from prevention to treatment, and funded on par with medical services.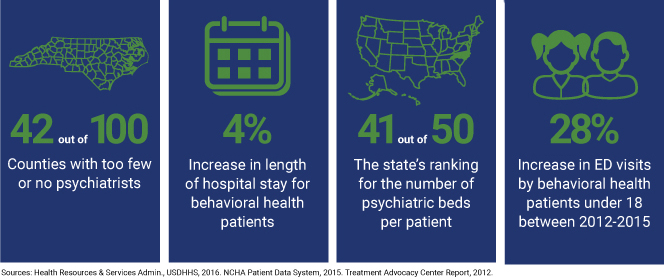 Find out about NCHA's initiatives to improve behavioral health care in North Carolina.