** NC Healthcare Foundation grant-funded program**
The Medicare Rural Hospital Flexibility (FLEX) Program was established by the Balanced Budget Act (BBA) of 1997 in the creation of critical access hospitals (CAHs). CAH designation allows the hospital to be reimbursed on a reasonable cost basis for inpatient and outpatient services provided to Medicare patients (including lab and qualifying ambulance services) and, in some states, Medicaid patients.
Flex funding encourages the development of cooperative systems of care in rural areas, joining together CAHs, emergency medical service (EMS) providers, clinics, and health practitioners to increase efficiencies and improve the quality and safety in patient care. The Flex Program requires states to develop rural health plans and funds their efforts to implement community-level outreach. The Flex Program includes support for the following five program areas:
CAH Quality Improvement (required)
CAH Operational and Financial Improvement (required)
CAH Population Health Improvement (optional)
Rural Emergency Medical Services (EMS) Improvement (optional)
Rural Innovative Model Development (optional)
CAH Designation (required if requested)
Through the FLEX Program, the North Carolina Healthcare Association (NCHA) in partnership with the NC Office of Rural Health, is assisting hospitals in assessing current performance, identifying gaps, and developing improvement plans to address identified opportunities for the Medicare Beneficiary Quality Improvement Program (MBQIP) core measures for inpatient, outpatient, care transitions, and patient experience measures. The patient experience measures are inclusive of metrics from the Hospital Consumer Assessment of Healthcare Providers and Systems (HCAHPS) scores.
Training on basic quality improvement, data tracking and reporting with access to best practices and subject matter experts will help to establish a foundation for sustainable improvement. The action period for this collaborative is August 2020 through August 2021.
Upcoming Events
Please check our site frequently for changes in event scheduling. Educational opportunities relevant to rural health and communities will be shared via FLEX program lead email communications list.
Quarterly Webinar Office Hour Calls

Critical Access Hospital Rapid Improvement Project
HCAHPS Composite Measure 7 – Care Transitions
Did you know that 20% of patients discharged from the hospital experience an adverse event within 3 weeks? Did you know that within 30 days of discharge, approximately 2.6 million Medicare beneficiaries are re-hospitalized, at a cost of over $26 billion every year? Did you know that medication errors harm 1.5 million people each year in the US at an annual cost of at least $3.5 billion?
These statistics are the result of a complex healthcare system – one key facet being the effectiveness of our transitions of care for patients being discharged.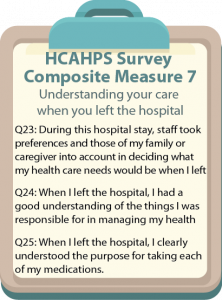 The Hospital Consumer Assessment of Healthcare Providers and Systems (HCAHPS) is a standardized survey instrument and data collection methodology for measuring patients' perspectives on hospital care. The measure on Care Transitions is HCAHPS Composite 7 measuring the understanding of your care when you left the hospital. The three questions in the survey are:
Q23: During this hospital stay, staff took preferences and those of my family or caregiver into account in deciding what my health care needs would be when I left.
Q24: When I left the hospital, I had a good understanding of the things I was responsible for in managing my health.
Q25: When I left the hospital, I clearly understood the purpose for taking each of my medications.
As of Quarter 4 2016, North Carolina scored 51% for this measure (US score is 52%). To improve this score, the Critical Access Hospital Quality Collaborative launched a Rapid Improvement Project from February 2018-April 2018.
Improving Care Transitions should impact multiple HCAHPS measures through its blend of nurse-patient communication, communication about medication and discharge information elements.