Expanding Medicaid would help over 600,000 [1],[2] people get health insurance – that's more than the population of Raleigh and Asheville combined. Of those eligible for expansion, 75% are employed [3]. These are our neighbors and co-workers. They are farmers who help feed us, veterans who protect us, and healthcare workers who heal us.
North Carolina hospitals believe they deserve health insurance and are committing to cover the costs to create health coverage for: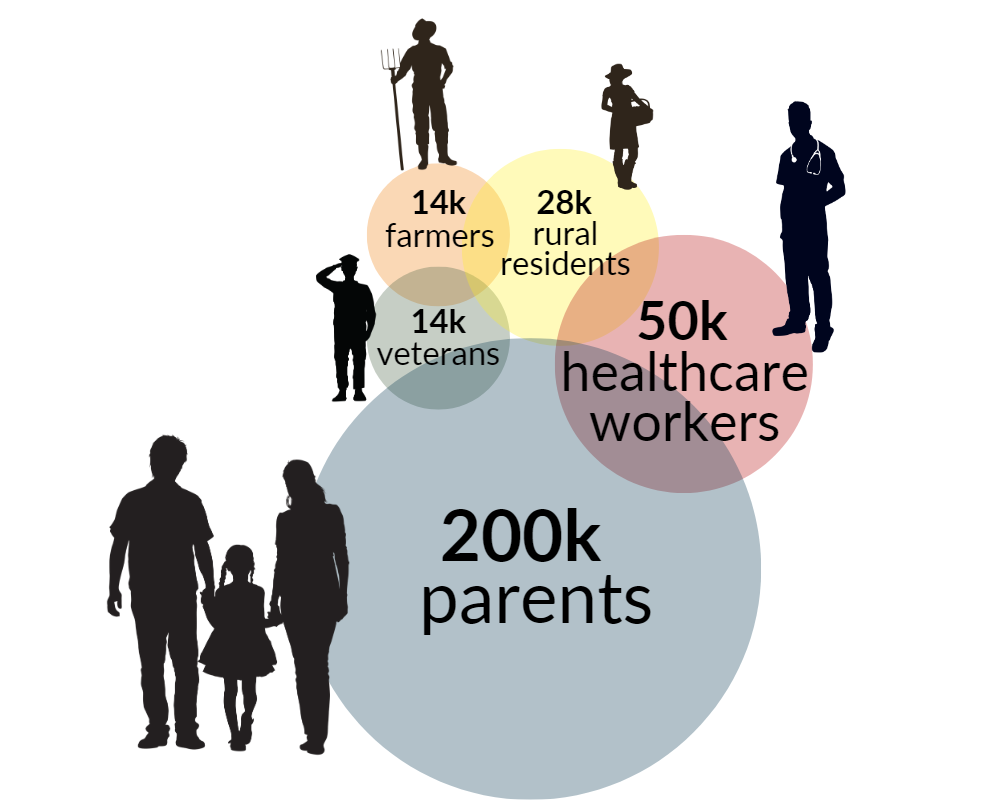 Why do our hospitals feel it's right to expand Medicaid and give health insurance to over 600,000 North Carolinians?
Our fellow citizens suffer and are more likely to die without health insurance.
Our economy suffers when people can't get the care they need.
We're missing out on billions of federal dollars for our state.
How did all this happen? People who earn too much to qualify for Medicaid, but not enough for subsidized insurance fall into the "coverage gap." In the coverage gap, health insurance is virtually impossible to afford – so people go without it.
Click to Learn: How the Coverage Gap Happens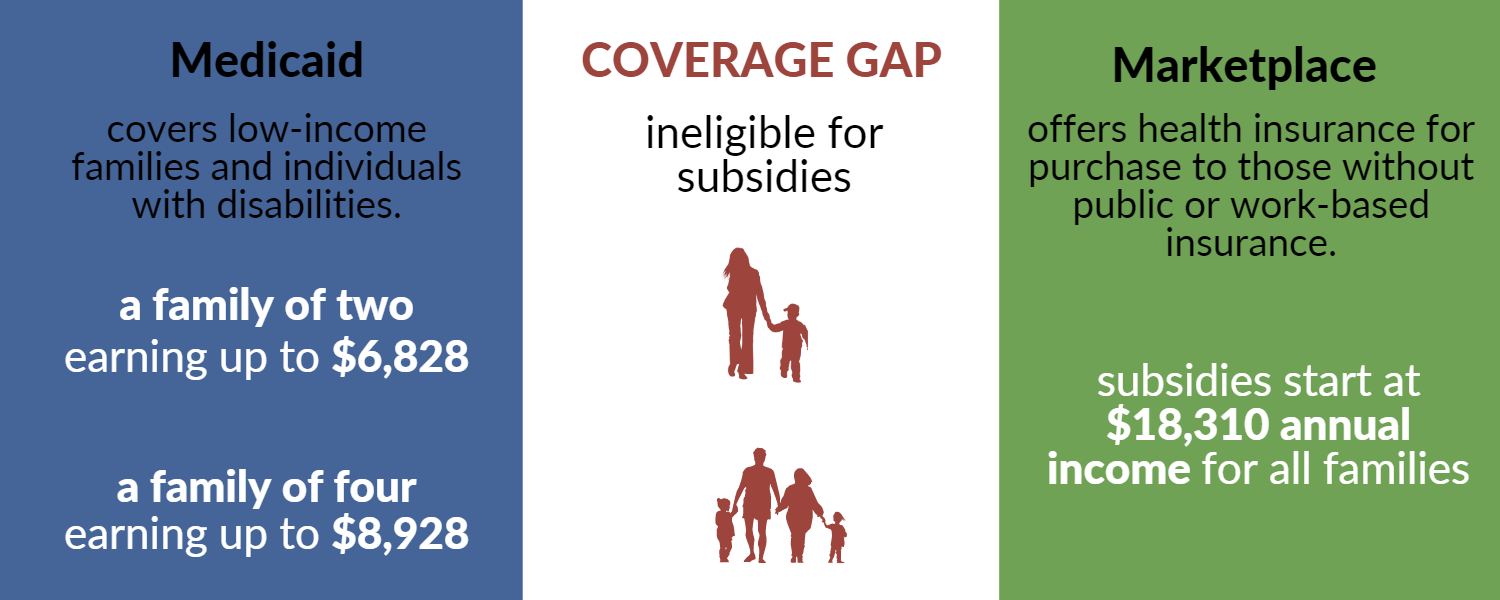 We All Pay for Leaving People Uninsured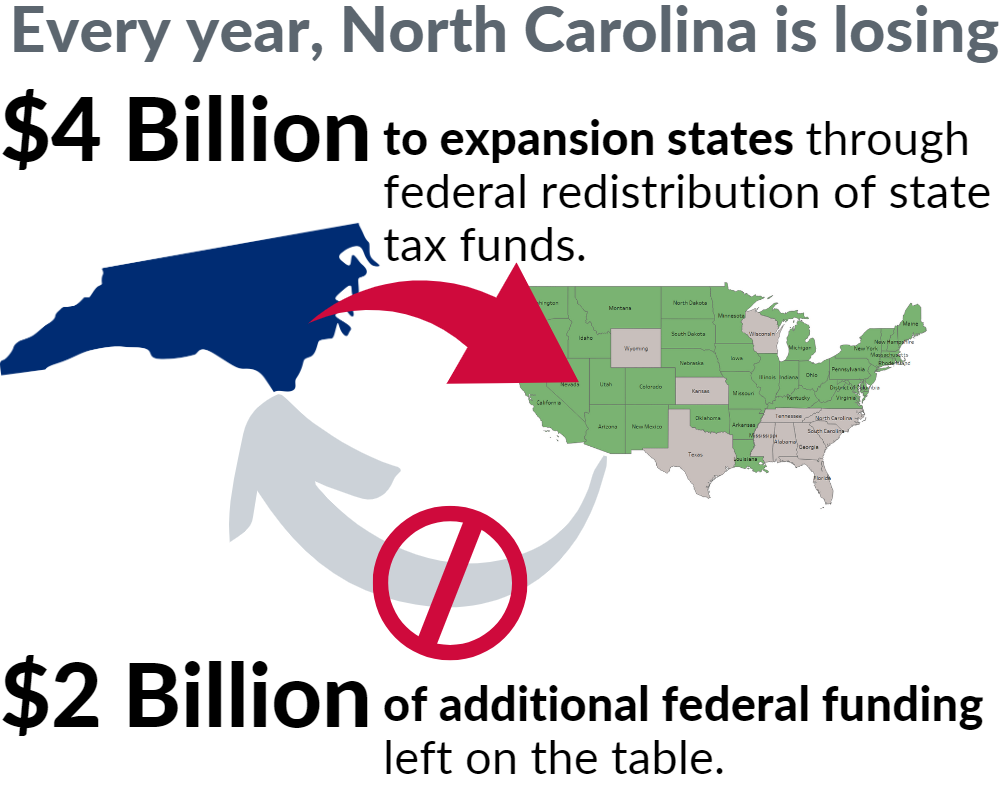 In total, North Carolina is missing out on $6 billion of funding to support healthcare for its residents [4]. If North Carolina expands Medicaid, those dollars return to our state instead.
But the costs go far beyond lost taxes. Leaving over half a million of our community members uninsured every year costs billions of dollars in lost economic growth, support for our vulnerable rural hospitals, and more.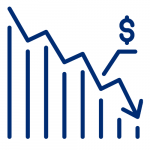 in lost economic growth, seen in other Expansion states [5]
Many studies on other states have shown that the overall economy of the state grows when Medicaid is expanded [2],[8],[9]. While about 40% of this growth is in the healthcare sector from increased utilization, the rest ripples out to virtually all other industries as well.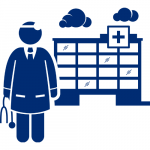 in lost gains for rural hospitals from Medicaid Expansion [6]
In the last five years, four out of five (82%) rural hospital closures nationwide have been in non-expansion states. Losing a county's only hospital results in decrease of about $1,300 per capita income [10].
in state health spending that would be freed up by Expansion [7]
Currently, North Carolina has to allocate about $180 million towards healthcare for foster children, medication assistance programs, care in state prisons, and more that would be covered by Medicaid Expansion. Because 90% of Medicaid Expansion is offset by federal funds, this would free up over $15 million per month to spend on other critical state services such as education. [7]
The Human Cost of Missing Coverage
Going without healthcare costs more than just money. Uninsured North Carolinians miss school, lose jobs, and suffer from poor health outcomes.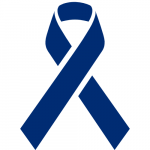 30% greater chance of dying from breast cancer
when diagnosed with cancer without insurance compared to those with [5]
How Will We Fund Expansion?
Our hospitals believe so strongly in the importance of health insurance for our communities that they have agreed to finance the state portion of expansion, an estimated $500 million dollars per year [4]. Expanding Medicaid is an investment that will repay all North Carolinians. Studies from other states that have expanded Medicaid show that increased state spending is nearly or completely offset by savings and increased state revenue [2],[8],[9].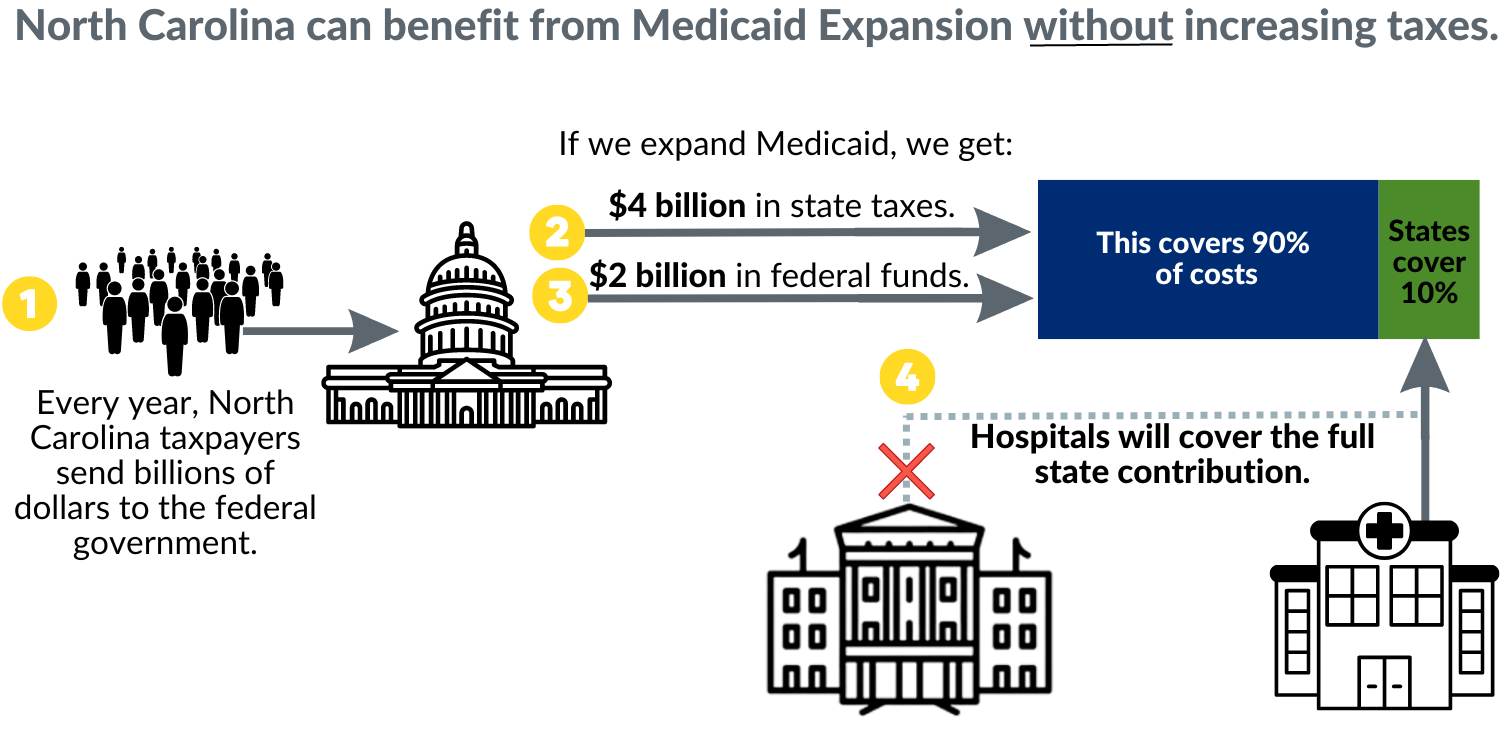 Let's Invest in Medicaid Expansion
Investing in the health of our state helps us all. If we increase the earning threshold for Medicaid, over 600,000 North Carolinians become eligible for Medicaid. Getting healthcare coverage would:
reduce economic losses

to sick time and medical bankruptcy,

prevent costly avoidable care,

reduce risk to vulnerable rural providers and

strengthen our local communities,

help

create thousands of new jobs

, and more.
For North Carolina, these benefits could exceed $10 Billion [9], fueled by returned state taxes [3], increased federal funds [4], creation of tens of thousands of new jobs [9], and greater workforce participation [8].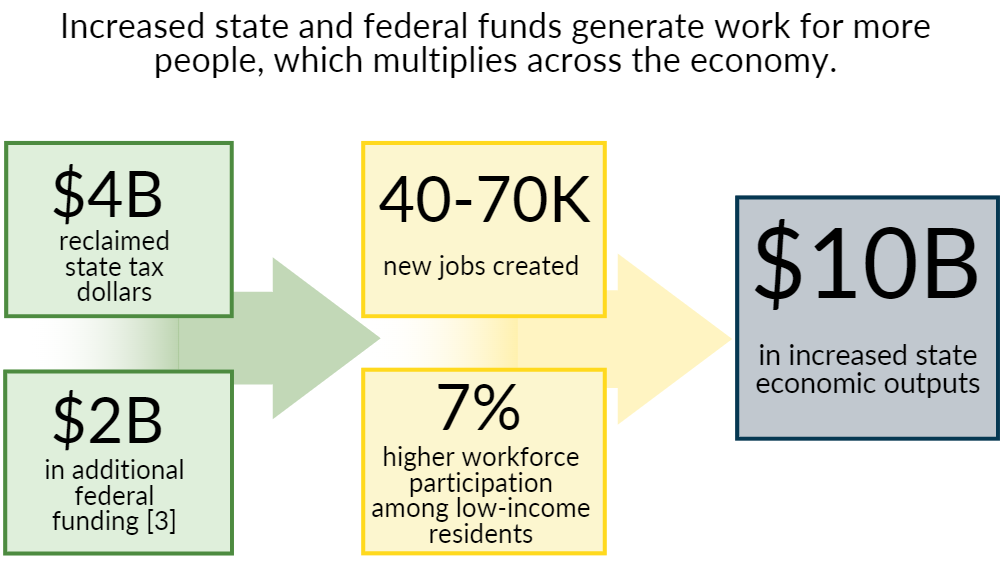 North Carolina currently has the 10th-highest proportion of uninsured people in the country [12]. Expanding Medicaid coverage for those who fall in the coverage gap would help North Carolina reap the enormous financial and wellness benefits other Expansion states are already getting.
Click to learn more about the multiplier effect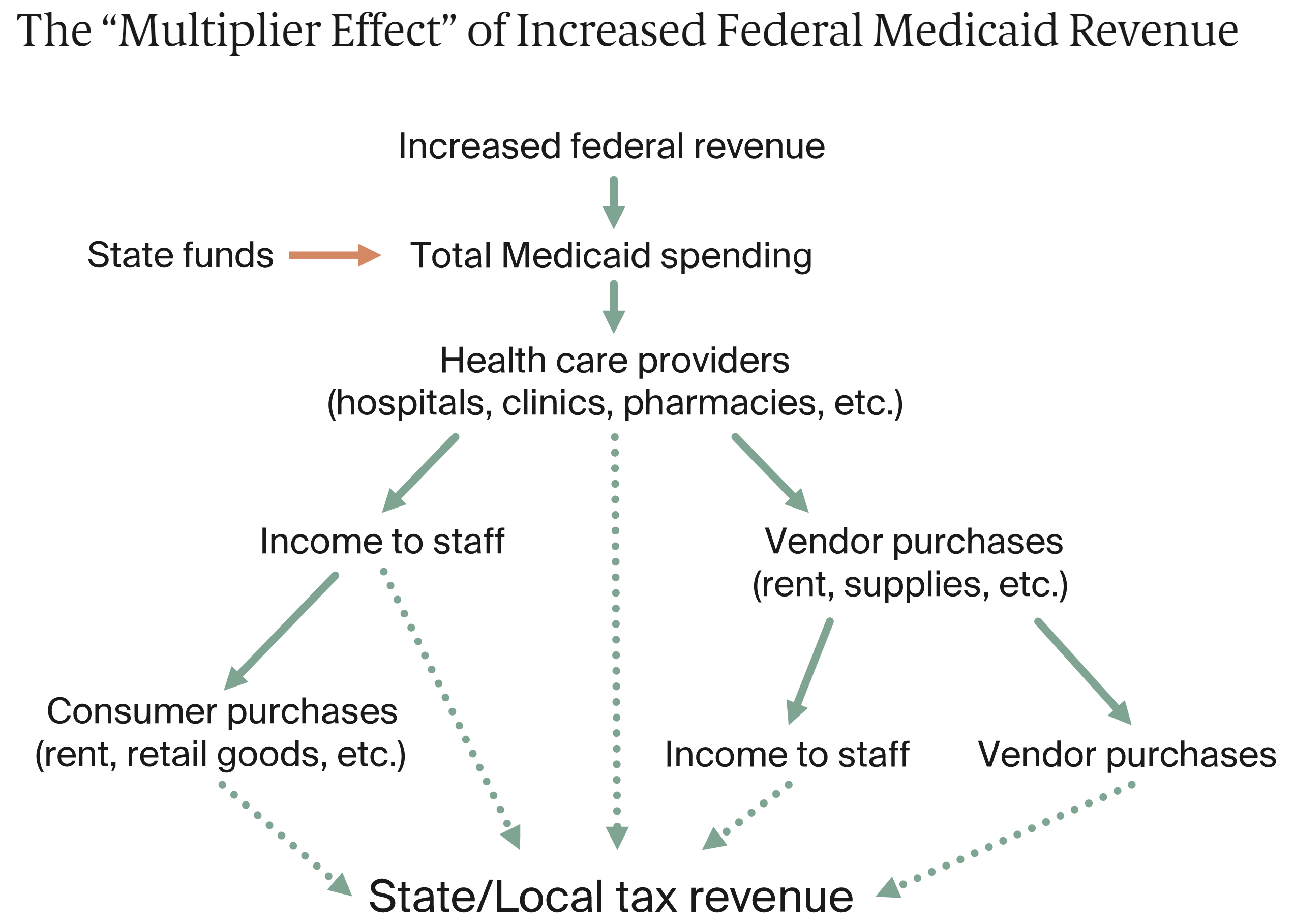 Source: Leighton Ku and Erin Brantley, The Economic and Employment Effects of Medicaid Expansion Under the American Rescue Plan (Commonwealth Fund, May 2021). https://doi.org/10.26099/x6zp-g424
Tell legislators we support Medicaid Expansion. Our investment will support our families, grow our economy, strengthen rural communities, and empower small businesses.
You can find your representative and send him or her and email below.