Healthcare Hero Response Fund By the Numbers
$
0
Total funds contributed to the COVID-19 Healthcare Hero Response Fund
0
The number of North Carolina restaurant partners providing meals
0
The number of meals delivered to healthcare heroes across the state
The background
A History
of Giving
The North Carolina Healthcare Foundation (NCHF) is grateful for the opportunity to help hospital and healthcare organizations employees during these challenging times. In recent decades, NCHF has supported healthcare heroes with recovering emotionally and economically from major hurricanes. As the novel coronavirus started to take a physical and emotional toll on healthcare workers, we reactivated our fund to provide frontline healthcare staff with good meals to sustain their strength to keep caring for patients and community members who need them.
The Impact
Caring for those who care for you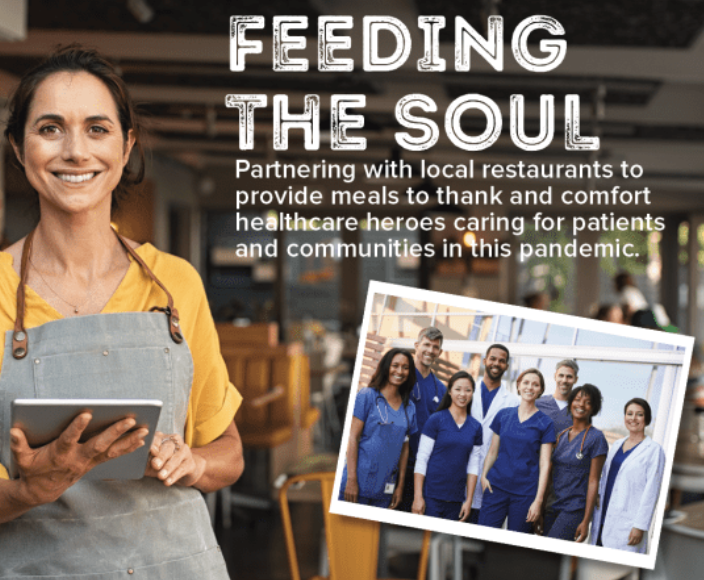 The NCHF COVID-19 Healthcare Hero Response Fund partnered with locally owned restaurants in communities across the state to provide meals to healthcare heroes who are on the front lines of caring for patients and communities. This effort nourished the bodies and souls of physicians, nurses and other healthcare heroes while also boosting local economies during a time of acute need.
The challenge ahead
Preparing for what's next
The NC Healthcare Foundation was honored to feed hospital employees and thank them for their dedication to patient care. From the physicians, nurses and technicians providing direct patient care to the cleaning staff who carefully sanitize patient rooms, the team members that make up North Carolina Hospitals and health systems continue to be in the trenches of this unprecedented public health crisis. We now need to rebuild our fund to not only help hospital employees but also help deploy resources to organizations working on the frontlines of the crisis to address emerging, acute, and long-term needs.
Restaurant Partners
Notes of Appreciation
Read comments made by donors showing their appreciation for frontline workers.
Thank you all most humbly for your massive effort to help mankind. I am deeply grateful to each of you who have stepped forward in this world wide time of need.
You are the heart and soul of our state and country. Thank you for the sacrifices you make and all you do for us. Please take care.
We could not be more grateful that you are out there taking risks working for the health of the community, especially the most vulnerable. We owe you so much more than we can express. We wish you and your families to stay well.

Clay Steinman & Inge De Becker
Thank you for all your hard work, dedication, and commitment to helping our community!! We couldn't do it without you and we are truly thankful!!

Sara Kathryn & Cas Edmunds
I can't find the words to express how much we appreciate your heroic efforts at this critical time for our state, our country, and the whole of humankind! You are amazing and we are so very very grateful. THANK YOU!
Thank you for getting up, for putting on the equipment, for serving the people of our communities, for helping ease people's fears and pains. Thank you!
Thank you all for your heroism and bravery! Not all heroes wear capes. They also wear scrubs and uniforms.
Thank you for all your hard work, not just now when it is especially hard, but for every holiday you spend working rather than with your family or those crazy weekends in the ER. We appreciate you more than you realize.