Hospital finances can be complex. It's easy to jump to conclusions about what your community hospital is doing with its money, but the truth might be quite different.
Did you know:
Many hospitals in North Carolina are designated as 'non-profits'. This means that any money they generate beyond the costs they incur goes directly back into the organization, rather than being distributed to owners or shareholders. These hospitals are exempt from federal and some state and local taxes. Tax-exempt hospitals have a particular obligation to demonstrate they provide benefits in their communities in return for their federal and other tax exemptions. But often what we think about both nonprofit and for-profits hospitals isn't quite right.
Read on to bust the most common myths about nonprofit hospitals
Over three quarters of North Carolina hospitals are nonprofits, and over 85% of available hospital beds are provided by nonprofit hospitals.
"Nonprofit" refers to a tax designation for organization that have committed to both pursuing a social good and to return all earnings back into the organization rather than to owners or shareholders. In exchange for this commitment, a nonprofit organization is not required to pay federal taxes. States also provide some tax exemptions for nonprofit organizations.
Nonprofits are then required by IRS to demonstrate that they provide direct and indirect benefits to the communities they serve. For nonprofit hospitals, these community benefits include direct financial assistance to uninsured and underinsured patients as well as in-kind benefits such as free community clinics and medical research.
Nonprofit hospitals must also complete Community Needs Assessments every three years, which incorporates local feedback to determine what benefits would best serve the hospital's community.
Additionally, all North Carolina hospitals provide community benefits, regardless of their tax status.
Number of Operational Hospital Beds by Tax Status
Nonprofit hospitals still pay some state and local taxes, and also are required to provide both financial and in-kind contributions to their communities. All hospitals contribute to multiple fee programs, including helping to fund Medicaid Expansion across North Carolina. In fact, the breadth of community benefits provided by hospitals is so great that communities receive an estimated $9 for every $1 in tax exemption hospitals get (EY Report).
in community benefits, including charity care.
These community benefits are the same as:
North Carolina hospitals provide billions of dollars in direct financial community benefits such as uncompensated care, but also in with many other kinds of contributions that reach far and wide across the state.
Community Vaccinations

Protecting our families from flu.
Click to read: How a Community Hospital Helps Protect Its Families From Flu.
Example of a hospital community benefit that isn't uncompensated care, such as a vaccination clinic.
Our Hospitals Are Funding Medicaid Expansion
One big example of how our hospitals help us across North Carolina is the Medicaid Expansion initiative. In order to help provide health insurance to all residents at no additional cost to tax payers, hospitals are collectively paying the state portion of expansion costs.
Another vital community benefit that North Carolina hospitals provide is educating and training new generations of medical providers. There are five academic teaching hospitals across our state (list) that support internships, residencies, and other academic experiences required to earn medical degrees and licenses. Tuition and other fees fall short of covering costs (U of M article), so teaching hospitals cover much of the resourcing for these programs as a community benefit.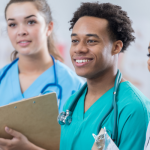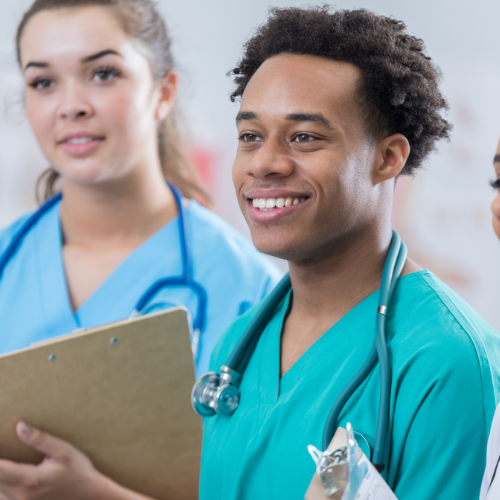 A Teaching Hospital

Protecting our families from flu.
Click to read: How a NC Hospital Educates Hundreds of Doctors
Atrium Health Carolinas Medical Center (CMC) is one of North Carolina's five academic teaching hospitals. CMC provides residency training for more than 200 physicians in 15 specialties. It also serves as the regional campus for Wake Forest University School of Medicine. Beyond training providers, CMC also is home to the Levine Cancer Institute's academic and research headquarters, which supports clinical trials for promising new cancer drugs.
physicians trained every year
Twelve hospitals have closed in NC since 2006 Currently, nine hospitals are at immediate risk of closure. Another 10 hospitals are at elevated risk of closure (9).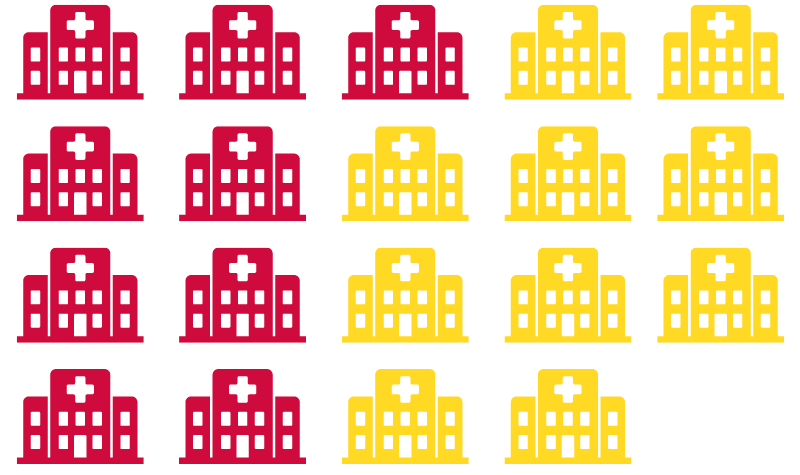 Why Are Hospitals Facing Financial Challenges?
There are many headwinds that hospitals must fight to survive. These include the same economic hardships that are impacting businesses all over the country, including inflation and investment losses. Hospitals also must contend with unique challenges in healthcare, such as reductions in public payer reimbursement rates and harmful industry trends.
0
%
of North Carolina hospitals had a negative operating margin
0
%
increase in labor costs since 2019
0
%
increase in supply costs since 2019.