The North Carolina Healthcare Foundation (NCHF) is the 501(c)(3) affiliate of the North Carolina Healthcare Association. Established in 1961, the Foundation supports the Association's work in quality improvement, patient safety and rural health care. In recent years, the Foundation has served as a pathway for the Association to:
Convene member hospitals and their community partners to address social determinants of health
Advocate for rural hospitals to provide essential services
Support innovative data-driven initiatives to improve healthcare
Address barriers to establishing a high-quality behavioral health system across the state
Phyllis Wingate, Board Chair, Former President & SVP North Division (retired)| Atrium Health
Vanessa Ervin, MBA, MRA, President & CEO | Carobell, Inc.
Greg Gombar, Executive VP & CFO | CHS
Lin Hollowell III, Director, Healthcare | The Duke Endowment
Stephen J. Lawler, President & CEO | NCHA
Chuck Mantooth, FACHE, President & CEO | ARHS
Allen Smart, Principal | PhilanthropywoRx
Michael C. Tarwater, FACHE, Director & Senior Advisor | The Leon Levine Foundation
Michael R. Waldrum, MD, Chief Executive Officer | Vidant Health
To foster and accelerate the collective impact of hospitals, health systems and community partners to improve the health of North Carolinians.
The North Carolina Healthcare Foundation is proud of our partnerships with the following organizations to support key initiatives:
Kate B. Reynolds Charitable Trust
The Duke Endowment
NC DHHS Division of Public Health
NC DHHS Division of Mental Health, Developmental Disabilities, and Substance Abuse Services
NC DHHS Office of Rural Health

CaroNova
CaroNova is a new partnership between the foundations at the North Carolina Healthcare Association, the South Carolina Hospital Association and The Duke Endowment.

Give Today to Improve Healthcare in North Carolina
Your generous contribution supports the North Carolina Healthcare Foundation's efforts to connect hospitals, health systems, care providers and communities to work collaboratively on addressing priority health issues.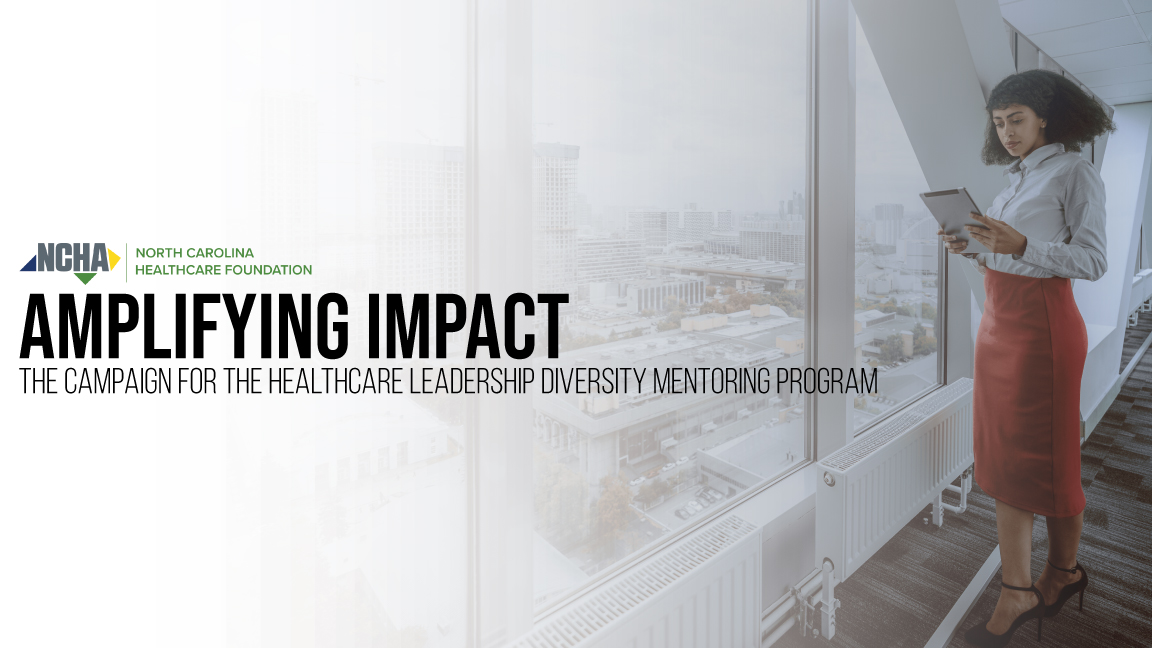 Help Sustain Diverse Mentorship Program
Join us in support of the 5-year fundraising campaign to grow and sustain the NCHF Diverse Healthcare Leaders Mentorship Program.