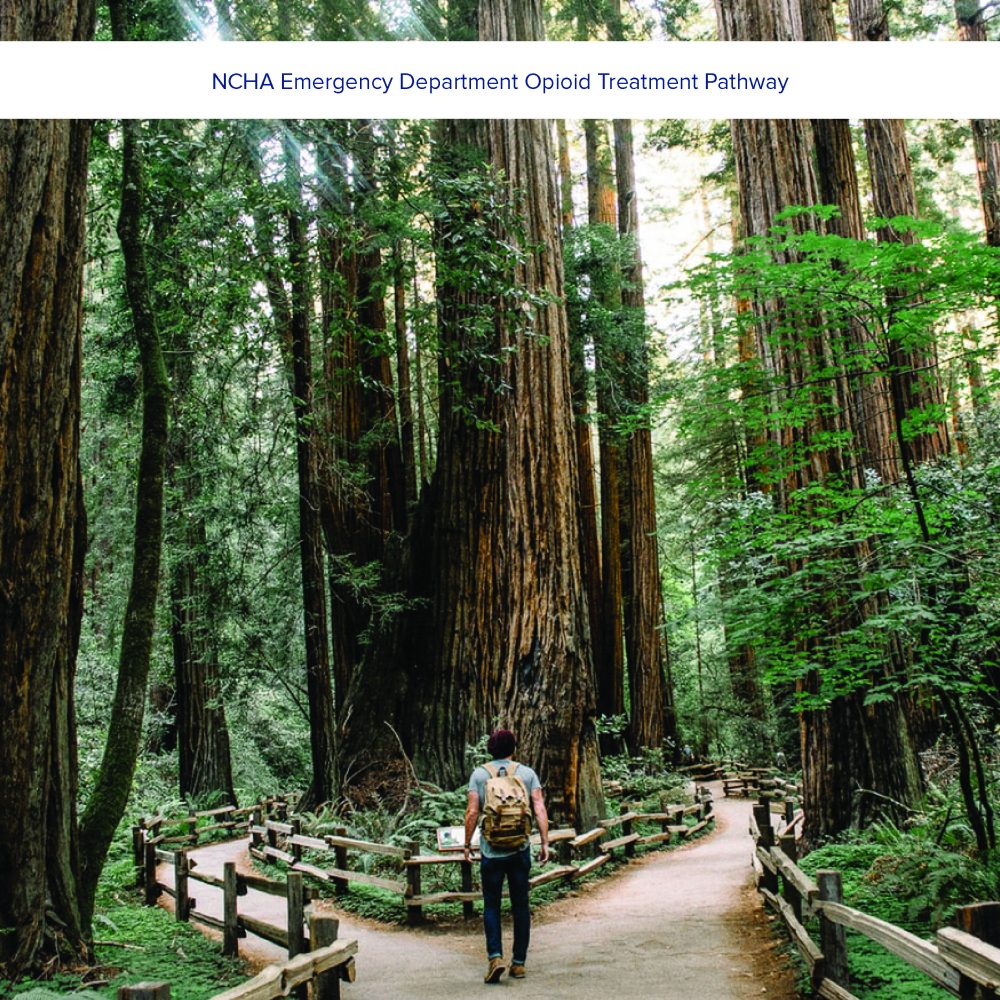 To hear an overview of the ED Opioid Treatment Pathway and how to use it, click here for a webinar by NCHF and Glenn Simpson of Vidant Medical Center.
We must collectively use our influence and voice to address issues such as payment reform and stigma, and to ensure substance use disorder treatments are viewed as any other chronic illness. Only then will we be successful in changing the systemic variables that have fueled the opioid crisis. NCHA is committed to addressing the diverse cultural, societal, and structural elements that will establish an equitable system of care for behavioral health patients. Read our behavioral health policy strategy.
The NC DHHS, Division of Public Health's Injury and Violence Prevention Branch collects data and monthly surveillance reports. To learn more about opioid overdose deaths, opioid-related hospitalizations, and ED visits — by county and on the state as a whole — visit DPH's data surveillance and navigation page here. 
The NCHA Emergency Department Opioid Treatment Pathway is a set of best practices and resources for emergency departments (EDs) who are serving patients with opioid and substance use disorders. The Pathway includes guidelines for alternatives to opioids, safe prescribing, and assessing and treating patients with new or known opioid and substance use disorders within the ED setting. These guidelines have been created by the Health System Response Workgroup, part of the Coalition for Model Opioid Practices. 
There are numerous factors influencing the over-availability and over-prescribing of opioids, including  inaccurate claims of what a prescription opioid would (or wouldn't) do to address patients' pain and the lack of clear guidelines for appropriate prescribing behaviors for healthcare professionals. Hospitals have been on the front lines of the opioid epidemic, acting as the safety net for patients using EDs as entry points while experiencing the sequela of use disorders. Hospital EDs are uniquely positioned to effectively alter the behaviors, attitudes, and practices that define the culture of safety surrounding pain management and substance use disorders and their treatment.  
Healthcare professionals must continue to be committed to providing safe care to patients using the best available research and literature regardless of the diagnosis. For pain management and substance use disorders (particularly opioid use disorder), there are a number of established best practices. Many of the recommendations within the ED Opioid Pathway have been created by hospitals within North Carolina. However, many of the barriers to implementation of these best practices are a result of structural policy issues: coverage and payment parity for substance use disorders, stigma of living with substance use disorders (and behavioral health as a whole), and an inadequate community-based treatment system for behavioral health patients, as highlighted in North Carolina's active U.S. DOJ Settlement Agreement.  
Healthcare administrators and executives, along with their clinical colleagues, have immense power and responsibility to ensure all staff have the organizational commitment, tools, and resources at their disposal to implement best practices described throughout the ED Opioid Treatment Pathway.
Acknowledgments: This toolkit was compiled in partnership with Christian Lawson of UNC Health Care, UNC Hospitals; Nidhi Sachdeva of Duke University School of Medicine; Glenn Simpson of Vidant Medical Center; David Witek of UNC Health Care and members of the Health System Response workgroup.  
Additional assistance and review were provided by representatives from multiple agencies and organizations, including the NC DHHS; NC Division of Public Health; NC Division of Mental Health, Developmental Disabilities and Substance Abuse Services; NC College of Emergency Physicians; Dr. Blake Fagan of Mountain Air Health Education Center (MAHEC); UNC Wayne; Vidant Medical Center; Dr. Elizabeth Hodges Shilling of Wake Forest School of Medicine; Lille B. Armstrong of the Injury and Violence Prevention Branch, Division of Public Health; UNC Medical Center; and Atrium Health Carolinas Medical Center; and from other members of the NC Healthcare Association's Coalition for Model Opioid Practices.