North Carolina has a long history of vibrant rural communities. From the mountains to coast, hospitals are the cornerstone of rural healthcare. They provide a wide range of services to support the health of their communities. Often among the largest employers, hospitals are major economic drivers. But they also face unique headwinds. Rural hospitals, unlike urban ones, experience unique geographical and socioeconomic challenges that include older, sicker populations, more underinsured, and healthcare professional shortages. They are also more likely to earn less than it costs to provide care. NCHA is working hard to support these critical pillars of our rural communities.
Rural communities, and the hospitals that serve them, are unique.

North Carolina has the second largest rural population in the US, with about 40% of the population or about 3.5 million people living in rural areas today. Of the 100 North Carolina counties, 63-80 counties are considered rural, depending on how rural is defined by different agencies. For this report, rural is defined as an average population density of 250 people per square mile or less based on the 2020 U.S. Census. By this definition, 78 of North Carolina's 100 counties are rural. (5)
Along with other healthcare provides like Federally Qualified Health Centers (FQHC), and rural clinics, hospitals play a critical role in rural North Carolina. They are often one of just a few healthcare providers in a rural community.
About 30% of the hospital beds in North Carolina are in rural counties.

Out of all hospital care in North Carolina, 40% of inpatient hospitalizations and 42% of emergency department encounters are in rural counties.

Ten of the 12

 

sole community hospitals in North Carolina are rural.

All 20 Critical Access Hospitals are rural. 
Rural patients travel farther than urban patients to access care. To get the following care, the average rural patient often may travel twice the distance of the average urban patient.
Average Distance (miles) To Receive:

Resilient Support Networks

St. Luke's cardiology care partners with the community to offer services in rural Polk county.
Click to read how St. Luke's Hospital and rural providers are expanding local care
Heart disease is consistently one of the top 3 causes of death in NC. St. Luke's, a critical access hospital in Columbus, North Carolina has partnered with experts to bring cardiovascular care to rural Polk county. The Community Health Needs Assessment identifies transportation as a major barrier to care. By offering services in Polk county, residents don't have to travel as far for services.
Dr. Evans Kemp says, "We're at your side at every step of your healing journey, from diagnosis and treatment to recovery and maintenance, providing peace of mind that you are receiving world-class care."
Rural hospitals provide life-saving care every day.
Every year, rural hospitals provide (7)…
inpatient hospitalizations
emergency department visits
care to 26% of county residents
emergency department visits and hospitalizations for uninsured patients
hospitalizations for behavioral health conditions
…to rural patients who are:
older, compared to 17% of population over 65 in NC (4)
lower income compared to $67,000 median income in urban counties (8)
0
% post-secondary education enrollment
less likely to continue on to higher education compared to  60% in urban counties (8)
Expanding Rural Access

Through telemedicine, hospital physicians support rural doctors to provide consultation and monitoring for patients.
Click to read how telehealth is used to extend expert care to rural areas
Hospital systems partner with local communities to provide care where it is needed.
In rural Alexander County, the need for video visits and remote patient monitoring is high. The county doesn't have a hospital system, so patients receive their care at physician practices and an urgent care center. Many patients experience poverty and transportation issues, and many lost jobs due to business closures during the pandemic.
A hospital system in a neighboring county, Iredell Health System, has deployed a telemedicine tool supported by funds from the North Carolina Healthcare Foundation. "A lot of patients have trouble finding ways to get to the doctor or managing their chronic care needs and prescriptions," said Carla Johnson, director of operations for the Iredell Physician Network, and the initiative allows the health network to deliver innovative care where patients are and connect them with the resources they need.
Rural hospitals are anchors in rural communities.
Rural hospitals are anchors of economic activity in the community. Beyond providing critical healthcare, rural hospitals contribute
to the rural North Carolina economy every year. 
Rural hospitals strengthen their communities beyond providing direct employment. Every year, rural hospitals provide
in community benefits and in-kind contributions to their communties.

Mental Wellbeing

A new rural facility helps support patients mental health.
Click to read: Behavioral healthcare access is expanding in North Carolina's High Country.
Cannon Memorial Hospital has opened a new behavioral health hospital, Appalachian Regional Behavioral Health Hospital, which expands the number of behavioral health beds from 10 to 27.
In providing specialized inpatient behavioral health services as well as outpatient care, the new facility will help patients in Western North Carolina avoid having to visit the emergency department for mental health care.
Rural hospitals are resilient – but face greater challenges.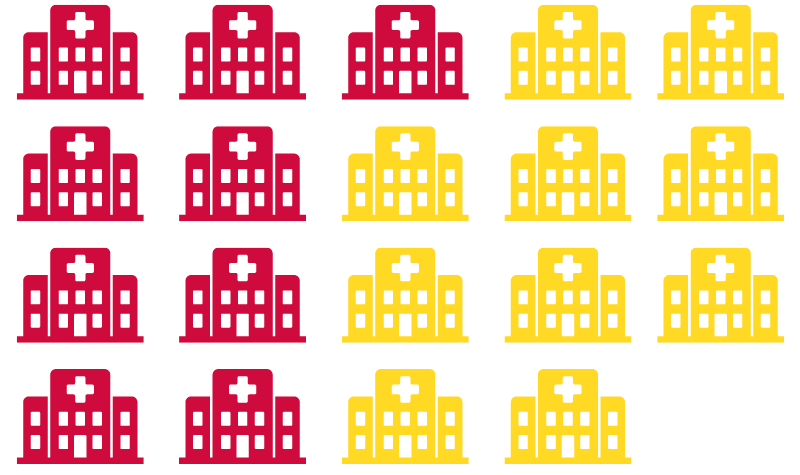 Rural hospitals have cared for our rural communities for decades. But the headwinds they face are increasing. Eleven out of 12 hospitals that have closed in NC since 2006 were in rural counties. Currently, nine rural hospitals are at immediate risk of closure, while no urban hospital is. Another 10 rural hospitals are at elevated risk of closure (9).
One factor contributing to the financial stresses faced by rural hospitals is low reimbursement rates, which lead to losses. It often costs rural hospitals more to provide care than they are paid to do so.
Government payers typically pay only 60 to 70 cents to the dollar of cost, meaning rural hospitals lose $300 to $400 for every $1000 of care they provide to patients covered by Medicare or Medicaid.
This underpayment, combined with additional low reimbursement from commercial health insurers, results in unsustainable financial positions for many rural hospitals.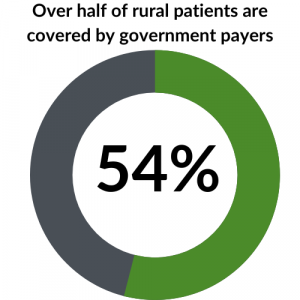 Healthcare provider shortages exist throughout North Carolina, as shown on the map, and are more severe in rural areas (6). These shortage areas show primary care, mental health care and oral health care.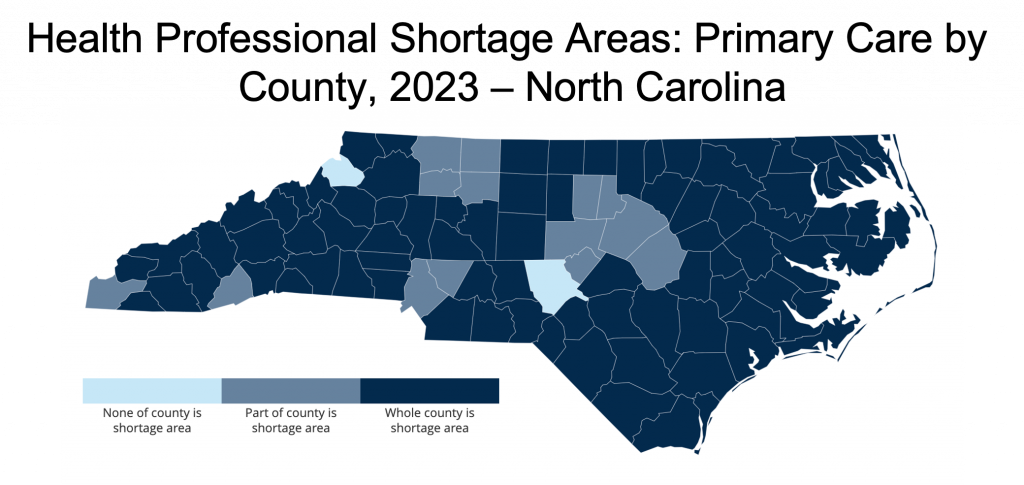 Rural hospitals deserve our support.
Click to learn more about NCHA's support of our rural hospitals and communities across North Carolina.