NCHA Strategic Partners (NCHASP) is committed to being the first resource healthcare providers turn to for access to workforce solutions. In the tabs below are NCHASP-vetted business solutions to help address workforce challenges. If you are an NCHA member health system with an unmet workforce need, please visit our Solution Station and let us help find a solution.
Staffing Solutions
Qualivis
Qualivis specializes in supplemental staffing by providing qualified, pre-approved nursing and allied health professionals. They partner with over 100 local, regional, and national staffing agencies to provide access to qualified, credentialed healthcare professionals.
Staff Care
Staff Care is the nation's leading locum tenens staffing firm, matching physicians in all specialties, dentists, CRNAs, and other advanced practice healthcare professionals on a temporary basis.
Intelassist
Intelassist, based in Manila, Philippines, is a remote staffing organization specializing in providing experienced and highly skilled employees to a diverse segment of businesses located around the globe.
Merritt Hawkins
Merritt Hawkins is the nation's premier permanent physician search and consulting firm. They also place allied health professionals in select disciplines. At the forefront of physician recruiting trends, Merritt Hawkins' original data and analyses are used as national benchmarks.
Development, Retention and Resiliency
Healthcare Experience Foundation
The Healthcare Experience Foundation is dedicated to improving patient care outcomes by helping healthcare delivery teams thrive. Their goal is to inspire and activate your organization's most important resource — its people — and achieve excellence with every patient, every time.
Human Resources Tools
HSC
HSC, Hospital Services Corporation, is a credentials verification organization (CVO) with the experience and expertise to offer individual or combined program benefits verifying and enrolling your providers quickly, ensuring faster treatment and reimbursement with your contracted payers.
Oppomed
Oppomed is a platform built at The Nautical Group, a leading executive search, and HR consulting firm. Oppomed aims to solve the staffing crisis at our nation's hospitals in an affordable, unique, and engaging way. By utilizing their technology, prospective applicants can connect with you faster than ever, which means you'll meet more nurses and other healthcare professionals.
TOOTRiS Child Care
TOOTRiS Child Care benefits offer exponential ROI while providing higher retention, recruiting, and productivity, with zero HR admin burden.
Workplace Safety
Camacho Consulting
Camacho Consulting provides specialized security and workplace violence solutions. They cater to the unique needs and budgetary constraints of healthcare facilities. Camacho conducts assessments on workplace violence policies and procedures and develops comprehensive programs to address a healthcare facility's needs.
Pilot Projects
NCHASP is collaborating with business partners on workforce pilot projects:
Camacho Consulting recently completed workplace safety assessments for two North Carolina healthcare facilities. These assessments involved in-depth evaluations and collaboration to gather insights and improve training protocols and policies. The assessments resulted in tailored safety and workplace violence programs, enhanced facility security, and fostered relationships with local criminal justice partners. The pilot programs came at no cost to the hospitals and provided valuable information to advance workplace violence tracking in North Carolina.
Healthcare Experience Foundation

(HXF) launched a pilot program with a Western NC hospital, aiming to enhance graduate medical education by teaching the human side of medicine. Essential competencies like emotional intelligence, burnout prevention, and building trust were incorporated. With support from HXF, a curriculum was established, fostering regular discussions on communication, compassion, resiliency, and leadership. The program positively impacted interns' clinical learning, improving their soft skills and relational abilities. It also provided faculty development, residency program enrichment, coaching, teaming, and evaluations to address physician burnout and restore wellness.

Qualivis

and NCHA Strategic Partners are collaborating to create a

Regional Staffing Program

allowing hospitals in a region to share the expense of hiring travelers. Four NCHA member have already accepted the task to serve as the pilot participants. in developing the program's rules, finances, and policies. The program aims to reduce the financial burden on hospitals and improve operational efficiency by pooling resources. Benefits include cost savings, enhanced workforce management, and knowledge sharing among participating hospitals.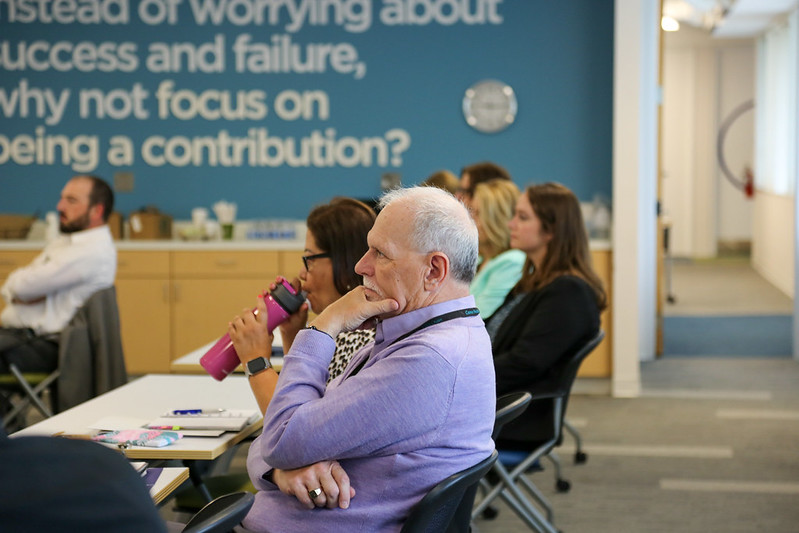 NCHA Regional Workforce Summits
In May 2023, NCHASP hosted three Regional Workforce Solutions Summits where healthcare workforce professionals gathered to collaborate, ignite ideas, and revolutionize the way they tackle shortages and workforce challenges. See our photo album from the summits here.